Address
Main access is via Maltmans Road, Lymm (access also from Moston Grove and Booths Hill road)
Further information
Ridgeway Grundy Memorial Park is the main and largest park in the village boarding the canal. Includes:
Two football pitches (with new goal posts)
Large playground (slides, roundabout, swings, seesaw, zip wire & more)
Skateboard ramps
Outdoor gym
Parking available at Davies Way car park (pay & display) via Maltmans road entrance.
September 2022 Lymm Life article about Wildflower Meadows in Ridgeway Grundy
Facilities
The nearest facilities are Sanctuary Cafe (drinks, food) from the Maltmans road entrance, or Lymm village centre.
There is a coffee van a short walk from the Maltmans road entrance, down Whitbarrow road on the TPT (details and opening hours in link)
From the playing field area, the Crown Inn is opposite the Booths Hill road entrance (next to the storage container), or the Co-Operative to the right of the Crown (both about 2 minutes walk from the corner of the playing fields).
As at April 2021 the Crown opens at 11am on Saturday & Sunday but are considering opening earlier for coffee & snacks at the weekends - check their website / contact the Crown via email (detail on their website) or social media for changes.
Ridgeway Grundy playing fields
The pitches are just about visible from the play area.
The upper pitch has better drainage, the lower pitch can be a little soft during / after wet weather. 
looking west towards the Moston Grove entrance with the upper pitch on the left, the lower pitch & canal on the right. The play area & outdoor gym is immediately behind this view point. Booths Hill road entrance top right corner::

View from the path / lower playing field looking south at the upper playing field.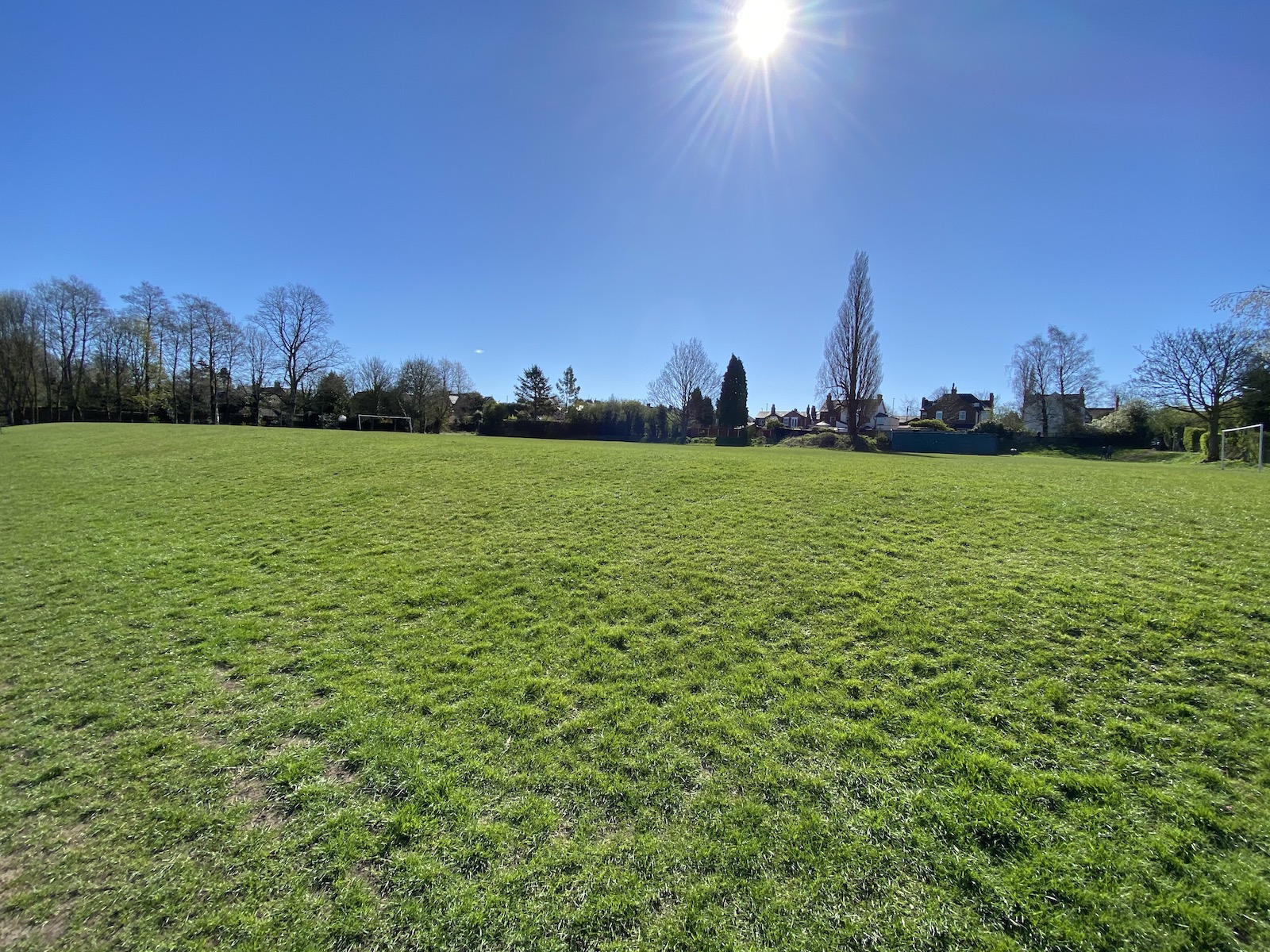 Reporting issues
Any issues with the park, equipment or facilities should be reported to Warrington Borough Council here via their website. You can phone WBC on 01925 443322 to report issues, but it's much, much easier to report via their online ticketing system (website) - WBC are fairly good at responding to Parks issues.