Language Classes
There will be an English language class for Adults on the Saturday morning 10:00-12:00am group meeting at Lymm Baptist Church, starting from 7-May. Open to all Ukrainian guests. See the Lymm Local Events page https://lymm.uk/ukraine-lymm-events
English lessons with qualifed teachers open to all Ukrainian guests, Wednesday morning 10:30 till 12:00, starting from Wed 18th May at Sanctuary Hub & Lymm Business Centre, (next to Lymm Library) Davies Way, Lymm, WA13 0QW.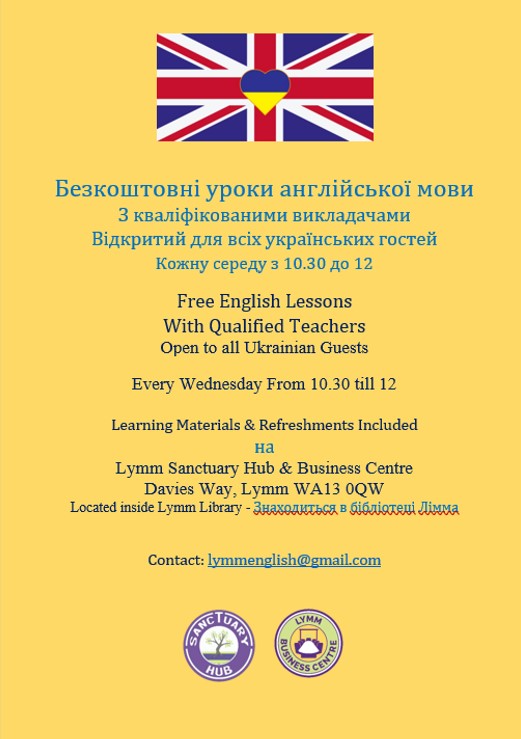 The Russian school in Grappenhall is a group run by a mixture of people who all speak Russian, some are Russian and they are very aware of potential sensitivities there. They are going to be hosting all sorts of events to help the children learn English including crafts, art etc. They have two psychologists on board to assist.
www.warringtonrussianschool.co.uk/
www.facebook.com/RussianLanguageSchoolSolnyshko/
There are English classes to speakers of other languages (ESOL) in Northwich at beginner level every Tuesday, 1-2:30 pm, free of charge, on a drop-in basis, no need to book at Bethel Church, Hargreaves Road, Northwich, Cheshire, CW9 7BL. For more information, please contact englishwithfriends19@hotmail.com
bethelchurch.co.uk/community/esol-classes-english-speakers-languages/
There are English classes every Wed 5-7pm for Adults and Children age 11+ at The Daton, Culcheth Sports Club, Charnock Road, WA3 5SH
Free Online English classes from the University of Central Lancashire (Term 3-May to 30 Jun 2022)
Elementary (Beginner) Tuesday 1-3pm : ZOOM ID: 4549892758 https://tinyurl.com/LowerLevelClass
Intermediate (Mid-level) Thursday 1-3pm : Zoom ID: 6895617062 Password: NdgWA3 https://tinyurl.com/Midlevelclass
You do not need to book! You can just turn up! 
Online Translation
Most people will be using Google Translate: https://translate.google.co.uk
The feedback is that this works very well, within the obvious limitations (online, needs a device, possibly issues switching between the western and Cyrillic keyboards)
Translation via Browser - The Google Chrome browser and at least some of it's derivatives (e.g. Vivaldi) offer 'built in' translation - e.g. select the text and click on 'translate'.
Google Lens is a good way to Scan and translate text in real time or look up words. It can be used on a PC or downloded as an App on a phone https://lens.google/
Say Hi Translate is an App you can download to a phone that can talk, write and translate documents. You speak in English, the phone speaks in Ukrainian or Russian and visa Versa.  Once you get used to it you can get quite a flowing conversation going and it's so much nicer than using a written translation app.  Feedback is that it works really well, but beware the occasional wacky amusing translation!  www.sayhi.com/en/translate/
Ukranian - English translation service.
Help with translating official documents to English for Visa applications, and a load of other resources - well worth a look. (You don't need to translate forms for a standard application)
www.iti.org.uk/resource/the-uk-s-ukraine-language-support-task-force.html
Language Courses and Phrasebooks
Duolingo the language-learning website and mobile app has made available its Phrasebook 'Essential phrases for helping Ukrainian refugees' and a free course for learning Ukrainian
https://blog.duolingo.com/ukrainian-phrases-english-translation/
Lonely Planet have made their Ukrainian Phrasebook available free of charge
https://media.lonelyplanet.com/ebook/ukrainian-phrasebook-5-for-shop.pdf
Ukrainian Lessons is a website for learning Ukrainian and sharing good-quality and useful Ukrainian lessons online.
Inlcudes 100 most common Ukrainian words and flashcards, 1000 most useful Ukrainian words with examples, flashcards, and pronunciation, 200 episodes of the Ukrainian Lessons Podcast, 60 episodes of 5 Minute Ukrainian, as well as check articles on our Blog to learn Vocabulary, Grammar, and Songs.
If you are helping Ukrainians in need, there is also a Phrasebook for Helping Refugees
https://www.ukrainianlessons.com/
NHS
Warrington & Halton NHS Hospitals Trust
WHNHT advise that when appointments are booked, an interpreter is requested. It looks like this may be a telephone interpreter initially, with possible on-site interpreter for follow-up appointments.
Manchester Hospitals
The Northern Care Alliance NHS Foundation Trust has an extensive interpreter and translation service, though it is not clear if this is accessible outside of the Trust's own services www.northerncarealliance.nhs.uk/patient-information/interpretation-translation-service
Changed
11 months 2 weeks ago